Blue has had some amazing adventures. You will find separate pages for a few of her more detailed trips, or click on the
bold
titles below to view her shorter adventures.
Blue's First Adventure
This is what Blue looked like before we repainted her. Our first big adventure was to visit family in San Diego, California for Christmas. From our home field in Oregon we passed over the snow covered mountains of Northern California and followed the central valley down to Los Angeles. We flew over L.A. the day before Christmas and it sure was crowded below us.. All the freeways were jammed with cars in stop and go traffic while we floated by happily at 10,500 ft. We landed at this small airfield in Ramona, very near where Linda's father lives.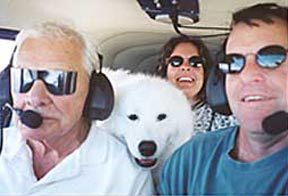 We took pictures of dad's house from right overhead and he flew the plane in the beautiful 75 degree sunny skies on Christmas day. Dad flew a small Luscombe airplane in the 1950's and had no trouble at all adjusting to Blue's gentle flying habits. Our view that day was spectacular. From just above dad's house we could see the Pacific ocean to the west, the hills of Mexico just south of us, and the snowy peaks of the San Gabriel mountains to our north.
Flying Over Crater Lake, Oregon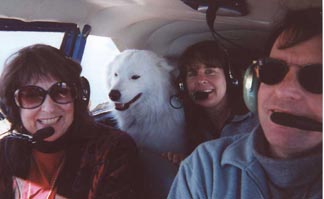 We took Mom for a ride over Crater Lake in Oregon. This is the deepest lake in the US and the water is very blue. It was a perfect, clear day with lots of fresh snow and we all had a great time, even our dog
Lightning
who rode in back seat. Mom pointed out that the deep water in the crater is the same color as our Tri-Pacer.
The rim of the crater is over 8,000 feet in elevation and since it is a national park we have to stay at least 2,000 feet above the rim. Sorry, no lake skimming allowed.
Brookings, Oregon
This photo was taken in 2001 at the Brookings airport on the Pacific coast. I know it looks like a dangerous spot but those trees are actually off to the side of the runway we are leaving. I'm really careful about flying safety for several reasons. One is that I want to live to be an old pilot and another is that I don't ever want to hurt Blue or her passengers. I learned to fly sailplanes before trying powered planes and the glider pilot in me always keeps a landing spot in sight. Since most flying accidents are due to either running out of fuel or flying in clouds, I am very careful to avoid both.
Alvord Dry Lake Bed, Oregon
Blue's first camping trip
Blue's first camping trip was in the Spring of 2001. We flew to the Alvord dry lake bed in the eastern Oregon desert. The Alvord is like a 10 mile long hard, white, alkaline landing field...when it's not wet. It becomes a 10 mile long sticky mud bog after a rain.
Several other rag wing airplanes were camped on the dry lake including some award winners like the teal & white Pacer belonging to Dennis & Kathy Richey and Judy Dixon's Lady Hawk.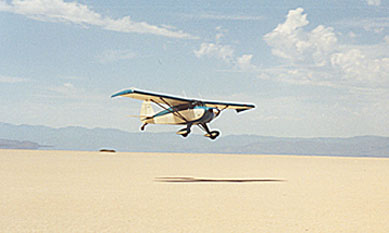 Dennis & Kathy Richey's Pacer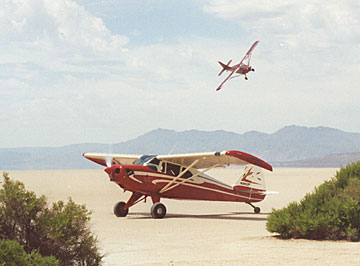 Lady Hawk
It was fun to buzz around this close to the ground while still being able to safely land anywhere.
Flying With Dogs
The white, furry guy in the middle is
Lightning
. He goes with us on many of our flying adventures. His first long trip was from Oregon to San Diego, California and he took to the back seat pretty well. Once we were airborne the dog treats came out and he forgot about the noise and funny smells (remember, it's an old airplane). He wagged his tail and gazed at the miniature buildings, cars, and trees below.
Big Sandy, Texas
In the Spring of 2001 I visited my Dad in Big Sandy, Texas. It's a bit west of Shreveport, Louisiana. The little airstrip there was fun to give airplane rides out of because the surrounding trees and rough surface made takeoffs and landings a bit exciting. Not dangerous, just exciting. This part of Texas is very green with lots of tall trees, lakes, farmland, and several golf courses.
While we buzzed over his house in Texas my Dad got some time at the wheel, and though he hasn't been at the controls for several years, he flew like a pro. Dad flew small planes in the Los Angeles area before I was born so the mid-50's cockpit design was probably somewhat familiar to him. He wore that same grin that Blue gives to everyone who flies her. Even a seasoned airline pilot on a scenic sunset flight over Puget Sound couldn't help grinning as Blue reminded him how fun it is to fly, just for the joy of flying.
Arlington Fly-In, Washington
Blue and I went back to Arlington, Washington for the annual fly-in. We enjoyed camping on the soft grass, and some beautiful weather. I've found that the high wing makes a decent sunshade and rain cover for the tent. Fly-ins are fun gatherings of airplanes and people where visitors can see all the latest kit-built airplanes, find helpful gadgets, and sample carnival food. Sometimes you can even pick up useful flying tips from experienced pilots. Here's one I heard... "Don't land hard, it's bad for the airplane".
Shelter Cove, California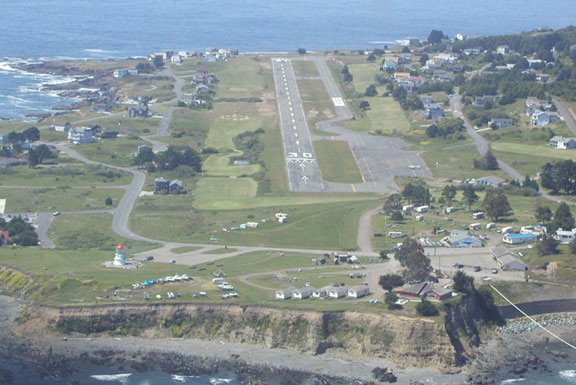 In 2003 we discovered a fun weekend flying destination called Shelter Cove on northern California, Lost Coast. The landing strip is just off the beach, surrounded by a golf course.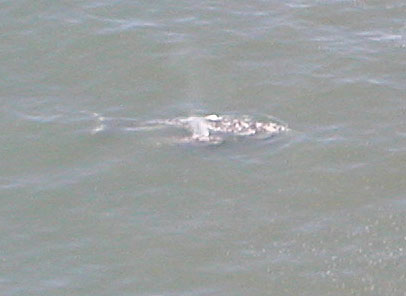 It was easy to spot huge gray whales and sea lions as Blue cruised along just offshore. We especially had fun watching the Grey whales migrate just off shore. This is a mother and baby (spouting) heading north. Just another one of many things we'd never have seen without Blue's help.
When Linda and I mentioned to our waiter David that we were flying up to Arcata, his eyes lit up so we invited him to join us. He was raised in the area and along the way he pointed out many things we would have missed. From his smile I think he liked the flight.