Welcome to Blue's website. Blue is a Piper Tri-Pacer built in 1958.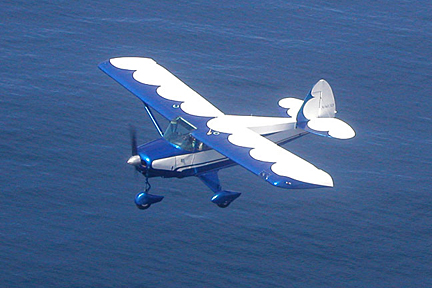 Flying over the Pacific Ocean
When we sold our homebuilt KR-2 airplane, I started to look for a slightly larger airplane. One that would be an affordable, rugged airplane. It would need to get a rookie pilot safely around the west coast with a passenger, two dogs, and a bit of camping gear inside. A group of local pilots take lots of fun trips with their rag-wing Pipers so I decided a Tri-Pacer would fit my needs. I went on a three month search for just the right airplane. In November of 2000 I found Blue through an ad placed on the Short Wing Piper Club website. She had been sitting in a hangar for many years and needed a lot of work, but I knew she was the plane we'd been searching for.
The picture above shows what Blue looks like now, after we finished repainting her.